Eid is the most awaited occasion in the Islamic calendar that calls for grand celebrations. The festival of Eid is all about dressing up, meeting family and friends, and indulging in mouth-watering delicacies.
Today, let's talk about green Pakistani-style clothing that is in trend and looks gorgeous. While Pakistani clothing for women is known for its elegant appeal, grace, and intricate embroidery, green is the colour of nature, prosperity, and harmony. It is also the colour of Islam, which makes it an ideal choice for Pakistani-styleEid Outfits. The green colour also adds a touch of freshness and youthfulness to any outfit, making it perfect for Eid as well as other festivities.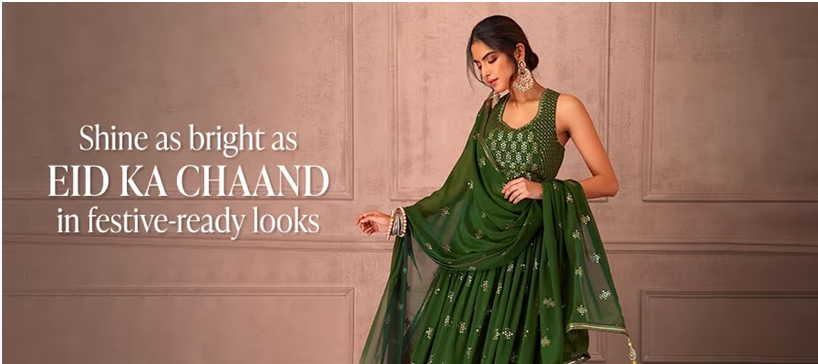 The latest trend in Pakistani style dresses for women is the use of pastel colours such as soft pinks, mint green, lilac, pastel greens, mauve, teal, and whimsy yellow. These colours add a touch of femininity and elegance to any outfit, making them perfect for the festive occasion. Another popular rage is the use of floral and botanical prints, which bring a refreshing and lively vibe to traditional outfits.
When it comes to Pakistani Eid outfits, the options are endless. One of the most popular choices for Eid is the traditional shalwarkameez, which comprises a long tunic-style shirt and loose-fitting trousers. These days, shalwarkameez comes in engaging styles, ranging from simple and tasteful to bold and vibrant. Some of the latest trends include the use of asymmetrical hemlines, bell sleeves, and cape-style sleeves, which add a modern twist to this classic outfit.
Another popular choice for Pakistani Eid clothing for women is Pakistani-style sharara suits. They are equal parts fun and elegant! A sharara suit comprises a long tunic-style shirt/kurta and wide-legged pants that flare out from the knee, creating a beautiful and flowing silhouette. Sharara suits have been a staple of Pakistani fashion for decades and continue to be loved by women of all ages.
No discussion about Eid or Pakistani-style dresses for women can ever be complete without admiring the sheer feminine whimsy of Anarkali suits and floor-length gowns. This beautiful dress has been a staple of Pakistani fashion for centuries and continues to evolve with the latest trends. The 2023 fad in Pakistani style Anarkali dresses for Eid include unconventional silhouettes, innovative sleeve styles, contemporary cuts and motifs, such as draped Anarkali gowns, layered Anarkali suit sets, belted Anarkali kurtas, one-shoulder Anarkali kurta, Anarkali maxi kurta, etc.
Apart from green Pakistani-style clothing, there are various other trending Eid dresses for women, sure to make any woman feel confident and beautiful from within!
Here are the top 6 Fashionable Eid Dresses Online:
Pre-stitched Sarees: are ingenious! They offer the best of traditional and modern elements on a single platter. From ruffles to layers to embellishments to drama- pre-stitched or ready-to-wear sarees have a lot to offer. And there are no reasons why you should miss out on them!
Pastel-colouredShararas: Pastel colours are everywhere this year and look stunning on playful shararas. You can choose from shades of pink, blue, peach, yellow, or lavender.
White Embroidered Kurti Dresses: White kurti Dresses with intricate embroidery and mirror work are perfect for Eid. You can pair them with colourful dupattas or embroidered mojaris to add a pop of colour.
Printed Palazzo Sets: Palazzo sets are sophisticated, breezy, comfortable and chic. You can choose from various prints, such as floral, geometric, or abstract and make heads turn with minimal effort.
Kaftan Dresses: kaftan dresses are an excellent choice for Eid because they are comfortable, versatile, easy to accessorize, suitable for modest dressing, and flattering on all body types.
Sequin Lehengas: Sequin lehengas are perfect for adding a touch of bling to your Eid outfit without being too overwhelming. Voguish sequin lehengacolours you can opt for include teal blue, maroon, emerald green, pastel blue, dark pink, black and gold, ivory, and dusty pink.
This Eid, add a touch of timeless elegance and sophistication with Pakistani-style clothing for women!